IPv4 address space exhaustion in Internet Registries
The dramatic development of the Internet industry in the last ten years has led to the depletion of the remaining IPv4 address space available to the Regional Internet Registries (RIRs). The remaining free pool of IPv4 addresses held by RIRs is projected to run out between 2010 and 2011.
This does not mean we will not be able to use the existing IPv4 Internet after the address pool runs out, but there are no more unallocated IPv4 addresses available from the Regional Internet Registries.
However, when we think about Internet development and expansion from mid-and long-term perspectives, IPv4 address space exhaustion will create a great restriction on the Internet, and will inevitably raise serious problems as time progresses.
Therefore, JPNIC is proactively working on the IPv4 address space exhaustion issue to minimize the problems.
Prediction of the space exhaustion date by Geoff Huston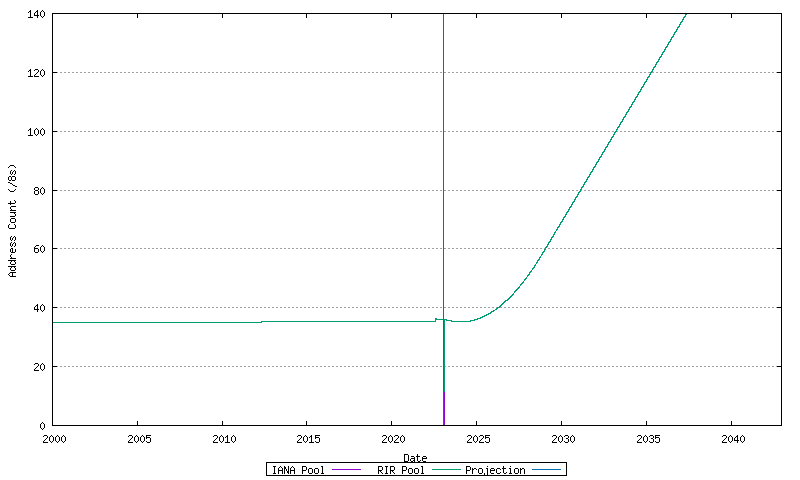 The red line indicates the number of /8 address blocks remaining in the IANA free pool. The green line indicates the number of /8 address blocks available in RIR free address pools. The vertical line indicates today.
Activities of JPNIC
Activities of Internet related organizations
Domestic
Ministry of Internal Affairs and Communications (MIC)
Internet Registries and other organizations
November 12, 2007
ISOC highlights importance of greater IPv6 deployment. More operational experience is the key to a smooth transition from IPv4 (ISOC)
June 29, 2007
On the Deployment of IPv6 (Adopted Board Resolutions - ICANN)
October 26, 2007
RIPE Community Resolution on IPv4 Depletion and Deployment of IPv6
September 07, 2007
Resolution from APNIC 24
August 02, 2007
AfriNIC position on the future of IP number resources
August 01, 2007
ARIN Board Statement on the Future of Addressing Policy(CNNIC)
July 09, 2007
announce from CNNIC (in Chinese)
June 21, 2007
As of 1/1/11, all the new IP addresses will be allocated on IPv6(NIC Mexico)
June 20, 2007
LACNIC announces the imminent depletion of the IPv4 addresses(LACNIC)
May 21, 2007
ARIN Board Advises Internet Community on Migration to IPv6(ARIN)
Contact
E-mail: ipv4exh-comment@nic.ad.jp